Protect This Historic Landmark Mansion and
Preserve One of Oak Bay's Earliest Neighbourhoods!
We are citizens of Oak Bay
who care deeply about supporting and respecting the heritage values and historical characteristics of our community.
Oak Bay is
a municipality in Victoria, British Columbia, Canada. We are located on the southern tip of Vancouver Island.
As residents of the neighbourhood
bordered by Beach Drive, Oak Bay Avenue, York Place, San Carlos Avenue, and including Prospect Place and Broom Road, we are actively exploring making our neighbourhood Oak Bay's first Heritage Conservation Area (HCA), "The Prospect".
Mansion worthy of restoration
Solid and imposing, the mansion has good bones and is worthy of preservation and restoration. A lavish and expensive home to build originally, it cost nearly double most other homes of the period.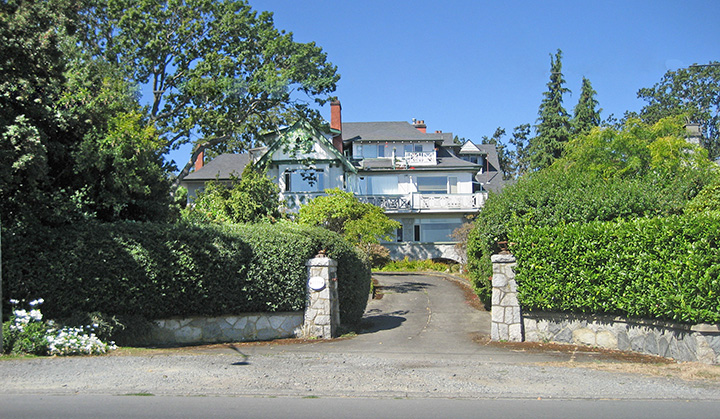 A community petition
has been established. A local developer has purchased the historically significant J.W. Morris House, built in 1912, at 1558 Beach Drive. This historic mansion (which is unprotected, being neither listed on the Oak Bay Heritage Registry or designated) has been a landmark on Beach Drive for over 100 years—and we strongly oppose any demolition application.
One of Oak Bay's first planned subdivisions: "The Prospect"
York Place, Prospect Place, San Carlos Avenue, Broom Road, and part of Beach Drive and Oak Bay Avenue is one of the earliest planned subdivisions in Oak Bay, and illustrates one of the ways in which Oak Bay developed in the early years.
Some Highlights: PICTURE PERFECT WEATHER... drew a crowd of 50 people interested in learning more [...]
The Prospect: A Heritage Conservation Area for Oak Bay A lecture presented by Stuart Stark, [...]
Some Highlights: In 1898, architects Francis M. Rattenbury (who designed the Parliament Buildings and The [...]
Some Highlights: WALKING TOURS A FABULOUS SUCCESS— 54 people attend the first two, more tours [...]
Some Highlights: ALL OVER THE WORLD, historic edifices are being replaced with "could-be-anywhere" buildings. Do [...]