Mabel was born on November 3rd 1888, into the wealthy Fortune family, (Mark and Mary) living in Winnipeg. When she was 23, most of her family sailed to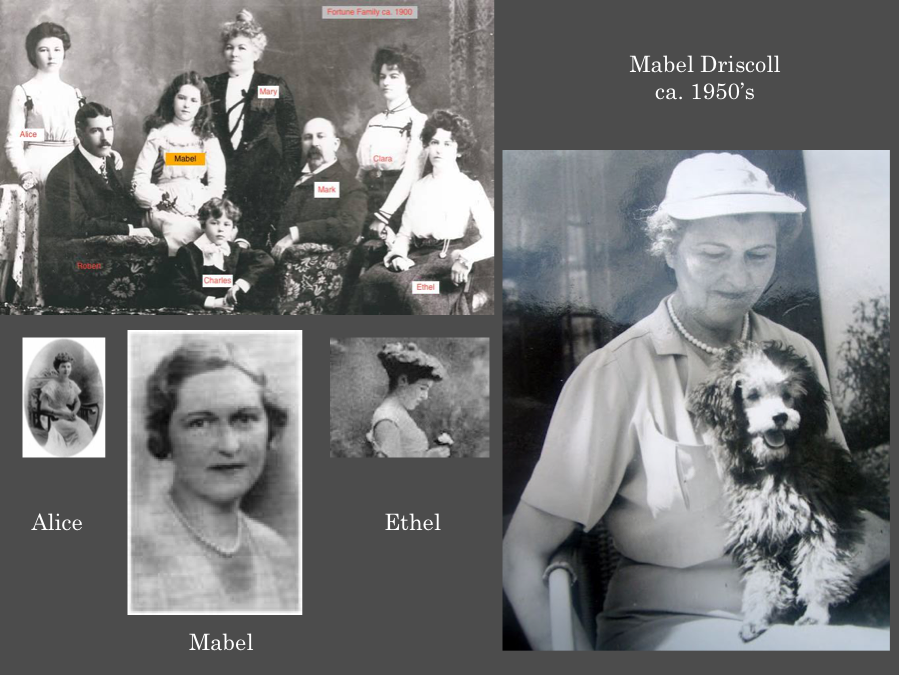 Europe for a Grand Tour. Her two older sisters, Ethel and Alice, were getting married and they wanted stylish trousseaus. Her younger brother, Charles wanted an adventurous holiday after just graduating from high school and before going to McGill University, and her parents wanted to separate her from an undesirable man, Harrison Archer Driscoll. A few months away and she would forget all about him, they thought.
While they were sitting on the verandah of the Shepheard's Hotel in Cairo, a fortune teller approached Alice and told her if she travelled by sea, she would lose everything except her life. After enjoying their travels on the continent, they embarked RMS Titanic from Southampton on April 10th, 1912. Four days into the journey the ship hit an iceberg, and in the early hours of April 15th, sank. As the ship began to take on water, Mary Fortune and her three daughters found refuge in lifeboat no. 10. Their father and brother stayed behind. The girls took turns rowing, as there was only one crewmember, a stoker, who could row.
From The New York Times, April 20, 1912:
 "One of the Fortune girls and another girl got out an oar, and helped to pull away from the wreck. The family agreed that they were in the boat within one hour after the liner struck. About 2:30 o'clock, as far as they can remember, they saw the stern of the Titanic hoist itself in the air. A crowd could be seen struggling. Shrieks came across the water to the crew of the Fortune boat. The band continued playing to the last, some with life preservers on their arms as they worked their instruments, and others with the belts around their waists. Not one made an attempt to save himself."
Both father and son died that night, and except for once in her old age, Mabel never spoke about the tragedy.
On her return, Mabel married Harrison Driscoll and had a son, Robert, in 1915. Harrison volunteered with the Canadian Expeditionary Force in the First World War and became a member of the Royal Flying Corps, at one point serving with No. 5 Squadron in France. He was hopeless with money, and according to the family, started burning through her inheritance at an alarming rate. They divorced and soon after, in Ottawa,  Mabel and her son became friends with Charlotte Fraser Armstrong, a divorcee who also had a young son.
They moved to Victoria, and in 1921 purchased 1630 York Place, a house originally designed by Francis Rattenbury in 1907 for Judge Peter Secord Lampman. "I am just designing a nice house for a friend of mine recently made a judge – Lampman. He is building close to us so I am trying to do something extra nice, as I shall see it often enough." It's hard to visualize now, but when Rattenbury built his house on Beach Drive, he considered Prospect Place to be his country lane approach to his entrance. When he looked back up the hill, there were no large trees to obscure his view of the top of York Place.
Mabel and Charlotte's estate had three acres of garden, stretching along Fireman's Park down to the cul-de-sac at Patio Court, or San Carlos, as it is officially known. Although the house was quite large, they hired Rattenbury's old rival, Samuel Maclure to add another wing, two bathrooms, and enlarge the maid's quarters. They also asked him to landscape the garden with a terrace, Olympic sized swimming pool and a large greenhouse with an aviary that could hold up to 150 birds. In 1930, after Mabel's mother had died and left her a legacy, they hired architects P.L. James and Hubert Savage to design a chauffeur's quarters over a large double garage.
Mabel and Charlotte were an important part of Oak Bay society and held tea parties and fundraisers along with the other ladies of the area, from York Place to Prospect Place. Their two full-time gardeners were kept busy tending a vegetable garden, a rose garden, and a cutting garden. The house remained in the family, passing to her son, Robert. After his early retirement in 1965, Robert and his wife and family all moved in. Mabel still had a Chinese cook called Sing and a maid called Madge. She died in 1968, and the family continued to live there until 1989. It was sold to a developer who kept the house and built seven new houses over the gardens. The house is protected by a restrictive covenant.